Message from the Dean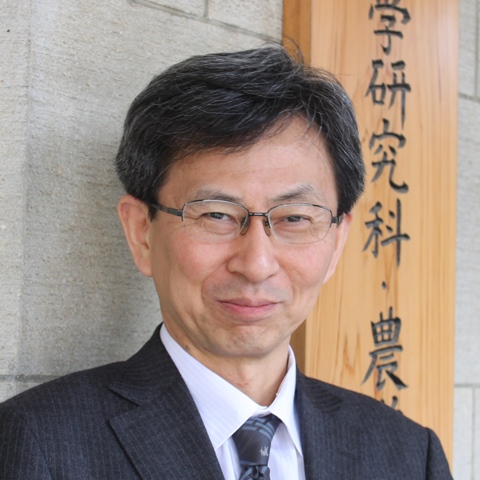 Our life depends on organic matter produced through the process of photosynthesis by plants. Agricultural science has evolved as a discipline to meet the growing demands for bio-resources in line with the increasing population, and to support their sustainable production. As the primary industries whose scientific background is agricultural sciences raise plants and animals in natural environments, it cannot prosper without an understanding of the various mechanisms in nature, as well as the ecological and physiological characteristics of the plants and animals raised. In addition, farming activities require research on the technologies, social systems, and business management systems that support them because farming involves the utilization and modification of vast areas of land. Thus, agricultural science is a comprehensive science covering diverse fields, such as life sciences, bio-resource science, environmental science, engineering, economics, and social sciences, which are closely interrelated with each other.
In recent years, climate change such as global warming has become increasingly evident and observable, with extreme climatic events frequently threatening human life and property. Global climate change is significantly affecting the primary industries, which depend on the natural environment, and its impact is expected to increase in the future. Humankind is facing the major challenges of securing stable food supplies and conserving the global environment; agricultural science will play an increasingly important role in implementing technical and social measures toward this end. Hence, there is a strong need to elucidate the various functions of organisms, and to make the best use of the findings for society in the future.
In April 2015, the University of Tokyo launched a new project to comprehensively reform its undergraduate education with three themes: "internationalization" by improving studying abroad and various international experiences, "substantialization" by promoting proactive learning and qualitatively and quantitatively improving the curriculum, and "sophistication" by providing advanced liberal arts education over the four school years and specialized education for encouraging innovation. The educational system will be reformed, including the introduction ta a recommendation entrance examination and the shift to a four-term of academic calendar, as well as improving the education for first-year students. The Graduate School of Agricultural and Life Sciences provides participatory programs for new students that link the classroom via an intranet system to a stock farm, forests, paddy fields and other fields operated by affiliated institutions. At the Faculty of Agriculture, the curriculum of course specialty allows students to specialize as necessary while also developing a broad view by systematically learning agricultural science step by step. With regard to educational reforms, specialized programs help students deeply understand their specialties, while sophisticated multi-disciplinary educational programs allow them to study the essence of agricultural science as an integrated discipline. In the AGRI-COCOON project (Agricultural Research Incubator Community for Cooperative Network of Public, Administrative, Business, and Academic Sectors), for example, solution-oriented education concerning food safety, biomass utilization, influence of radioactive contamination of natural environment on farming, and other themes is provided through field activities in cooperation with commercial firms, governmental organizations, non-profit organizations, and other entities. At the Graduate School, we nurture high degrees of specialty through graduate school education reflecting the forefront of researches, and encourage the acquisition of a broad range of knowledge on the roles of agricultural science.
In addition to internationalizing research and educational activities and carrying out other missions, the Graduate School of Agricultural and Life Sciences and the Faculty of Agriculture endeavor to promote agricultural science as an integrated discipline and bring up excellent human resources.
Takeshi Tange, Ph.D
Dean of the Graduate School of Agricultural and Life Sciences and the Faculty of Agriculture