International Mini-Symposium on Fascioliasis and other trematode infection in Central Vietnam (to be held on November 22)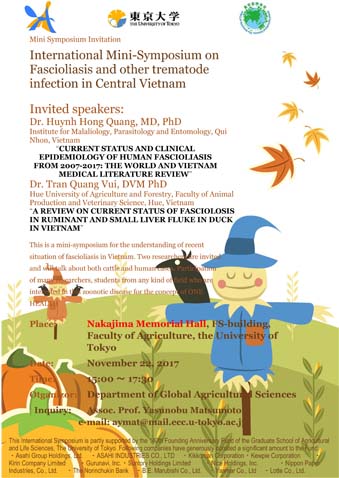 ポスター(PDF)
International Mini-Symposium on Fascioliasis and other trematode infection in Central Vietnam
Invited speakers:
Dr. Huynh Hong Quang, MD, PhD
Institute for Malaliology, Parasitology and Entomology, Qui Nhon, Vietnam
"CURRENT STATUS AND CLINICAL EPIDEMIOLOGY OF HUMAN FASCIOLIASIS FROM 2007-2017: THE WORLD AND VIETNAM MEDICAL LITERATURE REVIEW"
This is a mini-symposium for the understanding of recent situation of fascioliasis in Vietnam. Two researchers are invited and will talk about both cattle and human cases. Participation of many researchers, students from any kind of field who are interested in this zoonotic disease for the concept of ONE HEALTH
Place: Nakashima Memorial Hall, Faculty of Agriculture, the University of Tokyo
Date: November 22, 2017
Time: 15:00 ~ 17:30
Otganizor: Department of Global Agricultural Sciences
Inquiry: Assoc. Prof. Yasunobu Matsumoto
e-mail: aymat@mail.ecc.u-tokyo.ac.jp

This International Symposium is partly supported by the 140th Founding Anniversary Fund of the Graduate School of Agricultural and Life Sciences, The University of Tokyo. Following companies have generously donated a significant amount to the Fund:
・Asahi Group Holdings, Ltd. ・ASAHI INDUSTRIES CO., LTD ・Kikkoman Corporation・Kewpie Corporation ・Kirin Company Limited ・Gurunavi, Inc.・Suntory Holdings Limited ・Nice Holdings, Inc. ・Nippon Paper Industries, Co., Ltd. ・The Norinchukin Bank ・B.E. Marubishi Co., Ltd. ・Yanmar Co., Ltd ・Lotte Co., Ltd.
Abstracts
CURRENT STATUS AND CLINICAL EPIDEMIOLOGY OF HUMAN FASCIOLIASIS
FROM 2007-2017: THE WORLD AND VIETNAM MEDICAL LITERATURE REVIEW
Huynh Hong Quang1, Nguyen Van Chuong1, Le Dinh Vinh Phuc2 et al.,
1Institute of Malariology, Parasitology, and Entomology Quy Nhon, Ministry of Health, Vietnam
2Medic Center of Ho Chi Minh city, Vietnam
Fascioliasis is currently endemic in five continents and has become increasing as an important food-borne trematode infection and threat to public health as well. It affects approximately 50 million people worldwide and over 180 million are at risk of infection (WHO, 2015). However, there is still a lack of awareness and informations of this emerging problem in globe, including Vietnam. Fascioliasis is a parasitic disease predominant in liverstocks and domestic ruminants, but it is now reemerging as an important human infestation, but not parasitic neglected tropical disease. Human being is an accidental host, but depending on dietary habits, there can be very high prevalence in population of particular areas, especially in South America, South East Asia countries.
The epidemiological picture of human fascioliasis has changed in recent years, the number of reports of humans infected with Fasciola spp. has increased significantly step by step in the recent 10 years and some geographical areas have been considered as endemic for human. High prevalence of fascioliasis in humans does not necessarily occur in areas where fascioliasis is a major veterinary health problem. It means human fascioliasis can no longer be considered merely as a secondary zoonotic disease but must be considered to be an important human parasitic disease.
In Vietnam, the emergence of fascioliasis in recent 10 year is an enigma phenomenon, especially highest prevalence and intensity in fascioliasis endemic areas of Central Highland area (especially in some Phu Yen, Binh Dinh, Khanh Hoa, Quang Ngai, Quang Nam, Gia Lai, Daklak, Quang Binh, Da Nang provices). That emergence of this large number of human cases as puzzling and set on many multidisciplinary questions. These global data update and confirmed fascioliasis ases review in Vietnam from 2007-2017 period aimed to address the key obstacles in controlling human fascioliasis with evidence-based data.
Key words: Fasciola spp., clinical epidemiology, reemerging disease

Dr. Tran Quang Vui, DVM PhD
Hue University of Agriculture and Forestry, Faculty of Animal Production and Veterinary Science, Hue, Vietnam
"A REVIEW ON CURRENT STATUS OF FASCIOLOSIS IN RUMINANT AND SMALL LIVER FLUKE IN DUCK IN VIETNAM"
Abstracts
A REVIEW ON CURRENT STATUS OF FASCIOLOSIS IN RUMINANT AND SMALL LIVER FLUKE IN DUCK IN VIETNAM
Tran Quang Vui1, Nguyen Van Thoai2, Pham Thi Dieu Thuy3 1 Hue University of Agriculture and Forestry
2 Central Vietnam Veterinary Institute
3 Thai Nguyen University of Agriculture and Forestry
Vietnam is a developing country belonging to the tropical agro-ecological zone, in which planting rice and raising cattle and buffalo are the traditional agricultural practices.Parasitic diseases are still common in cattle and buffalo, causing significant economic losses for animal husbandry, including fasciolosis, with an estimate prevalence of 0 - 60% reported in Vietnam. The data on prevalence of Fasciolosis in cattle and buffalo, the factors influenced to the prevalence of Fasciolosis, bio-characteristics of the intermediate hosts of Fasciola spp., diagnostic and treatment methods  will be included in this review.
In the recent years, the researches on Opisthorchis spp., Opisthorchis paragenminus in ducks raising in Binh Dinh province of Vietnam were carried out. The results of these researches on prevalence of infected ducks, clinicalpathologenic signs and molecular identification for small liver fluke have been reviewed.
Key words: Fasciolosis, Opisthorchis paragenminus, Vietnam.