Memorandum of Understanding between the Graduate School of Agricultural and Life Sciences of the University of Tokyo and the University of Bonn renewed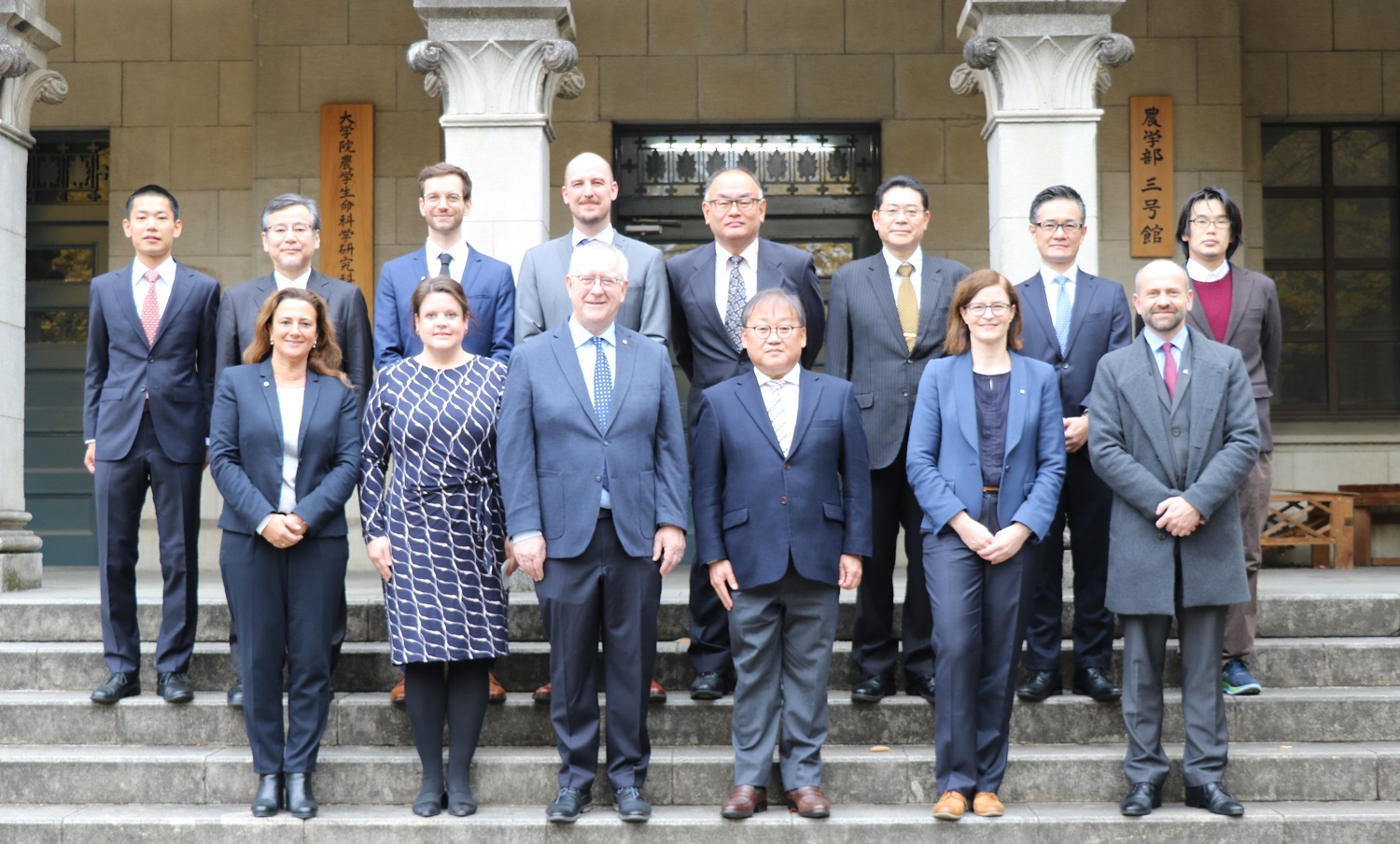 In front of the Faculty of Agriculture Building No. 3 with the delegation from University of Bonn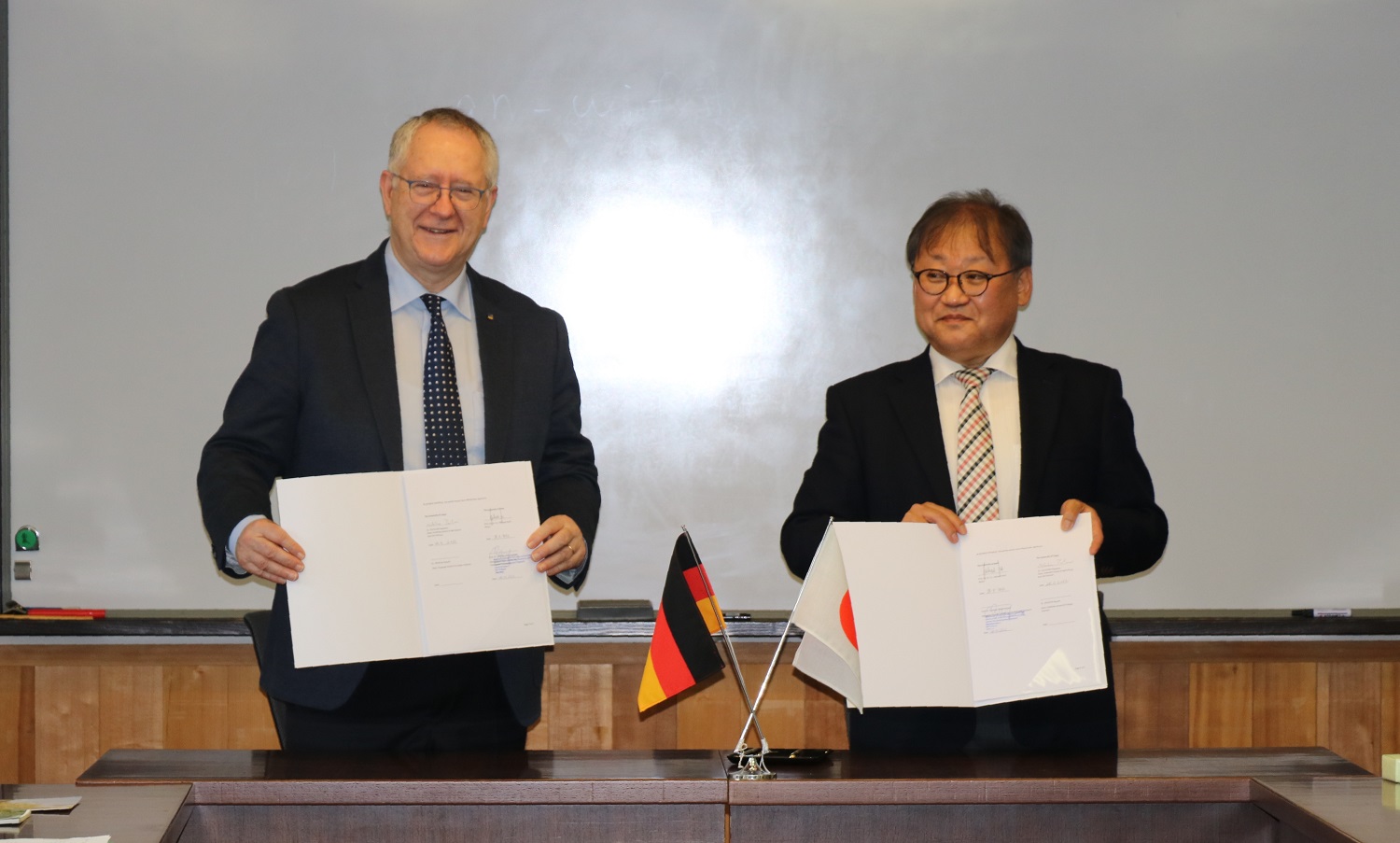 With President Hoch from the University of Bonn after the signing ceremony
At 10:30 am on Monday, November 28, 2022, the signing ceremony for the Memorandum of Understanding for Student Exchange between the Graduate School of Agricultural and Life Sciences (GSALS) of the University of Tokyo and the University of Bonn was held in Room 141 of the Faculty of Agriculture Building No. 3. The signing ceremony was attended by seven faculty members from the University of Bonn, including Rector Michael Hoch, Vice-Rector Birgit Muench, and Vice-Rector Annette Scheersoi, and seven faculties from the Graduate School of Agricultural Sciences led by Dean Tsutsumi, Vice-Dean Nakashima, and Vice-Dean Fujiwara. In his opening remarks, Dean Tsutsumi explained the history of the exchange to date and future prospects, while Rector Hochschule Bonn expressed his gratitude for the exchange to date, including the possibility of future collaboration in the field of agricultural sciences. This was followed by discussions between the two parties regarding further strengthening of cooperation in the future.

This exchange was initiated between the International Program in Agricultural Development Studies (IPADS) of GSALS and the Center for Development Research of the University of Bonn (ZEF). Since the signing of the MOU in February 2016, active international educational exchange, including joint lectures and practical training, has been conducted between IPADS and ZEF. Prior to the coronavirus pandemic, the following exchange activities had been conducted every year: ① around 5 doctoral students from ZEF have been accepted to conduct field training and group work with IPADS students and the Department of Global Agricultural Sciences (Noukoku in Japanese) students for about a week, ② A ZEF faculty member has given intensive lectures to new IPADS students, and ③ IPADS faculty members had provided courses at the University of Bonn, while IPADS and Noukoku's students also took ZEF courses online from Japan. During the pandemic, all these activities have been conducted online and a combination of online and face-to-face sessions, while the IPADS students continued to participate in the interdisciplinary courses of ZEF. Furthermore, a new Online Development Studies and Research Community (ODSRC) was jointly launched by ZEF and IPADS to promote online reciprocal lectures and to establish an online education and research community using online platforms.

For the future, we plan to further enhance our existing international educational exchange activities as well as further accelerate student and faculty exchanges on both sides through both face-to-face and online means. In particular, this agreement is accompanied by a new tripartite agreement that includes the Graduate School of Frontier Sciences, and we would like to promote further cooperation along with sustained and diverse exchanges in a wide range of fields with the University of Bonn, while encouraging the participation of all student of the Graduate School of Agricultural and Life Sciences, as well as the Graduate Program in Sustainability Science - Global Leadership Initiative of the Graduate School of Frontier Sciences, in student exchanges, which has primarily been enjoyed by Noukoku students.