Is there Alzheimer's disease in animals? — Neurofibrillary tangles, a characteristic lesion of Alzheimer's disease, is observed in the brains of Tsushima leopard cats
November 8, 2012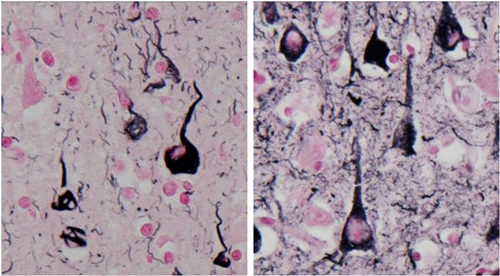 Enlarge this image
Neurofibrillary tangles observed in the brain of a human Alzheimer's disease patient (left, black part), and neurofibrillary tangles observed in the brain of a Tsushima leopard cat (right, black part). Cerebral cortex. Gallyas-Braak stain.
Project Assistant Professor James Chambers, Associate Professor Kazuyuki Uchida, Professor Hiroyuki Nakayama and their colleagues at the University of Tokyo's Graduate School of Agricultural and Life Sciences Department of Veterinary Medicine have discovered the characteristic pathology of Alzheimer's disease, β-amyloid deposition and neurofibrillary tangles, occur with high frequency in the brain of the endangered Tsushima leopard cat. β-amyloid was deposited in the diffuse granular form without senile plaque formation, but the morphology, distribution, and component proteins of the neurofibrillary tangles were the same as those of human Alzheimer's patients. Additionally, the amino acid sequence of the β-amyloid protein of the leopard cat differed from that of other animal species.
It is believed that the formation of senile plaques precedes that of neurofibrillary tangles in Alzheimer's disease. However, in the known case of the cheetah and the present case of the Tsushima leopard cat, even though neurofibrillary tangles and the diffuse deposition of β-amyloid are observed in the brains of both animals, senile plaques do not form. These research results provide an important insight into the patho mechanism and evolution of Alzheimer's disease.
Paper information
Chambers JK, Uchida K, Harada T, Tsuboi M, Sato M, Kubo M, Kawaguchi H, Miyoshi N, Tsujimoto H, Nakayama H, "Neurofibrillary tangles and the deposition of a beta amyloid peptide with a novel N-terminal epitope in the brains of wild Tsushima leopard cats" PLOS ONE Online Edition: 2012/10/4 (A.M.7 Japan time), doi: 10.1371/journal.pone.0046452.
Article link