A novel protein increases heat stress tolerance in plants — Enhancement of gene expression without growth retardation
January 21, 2015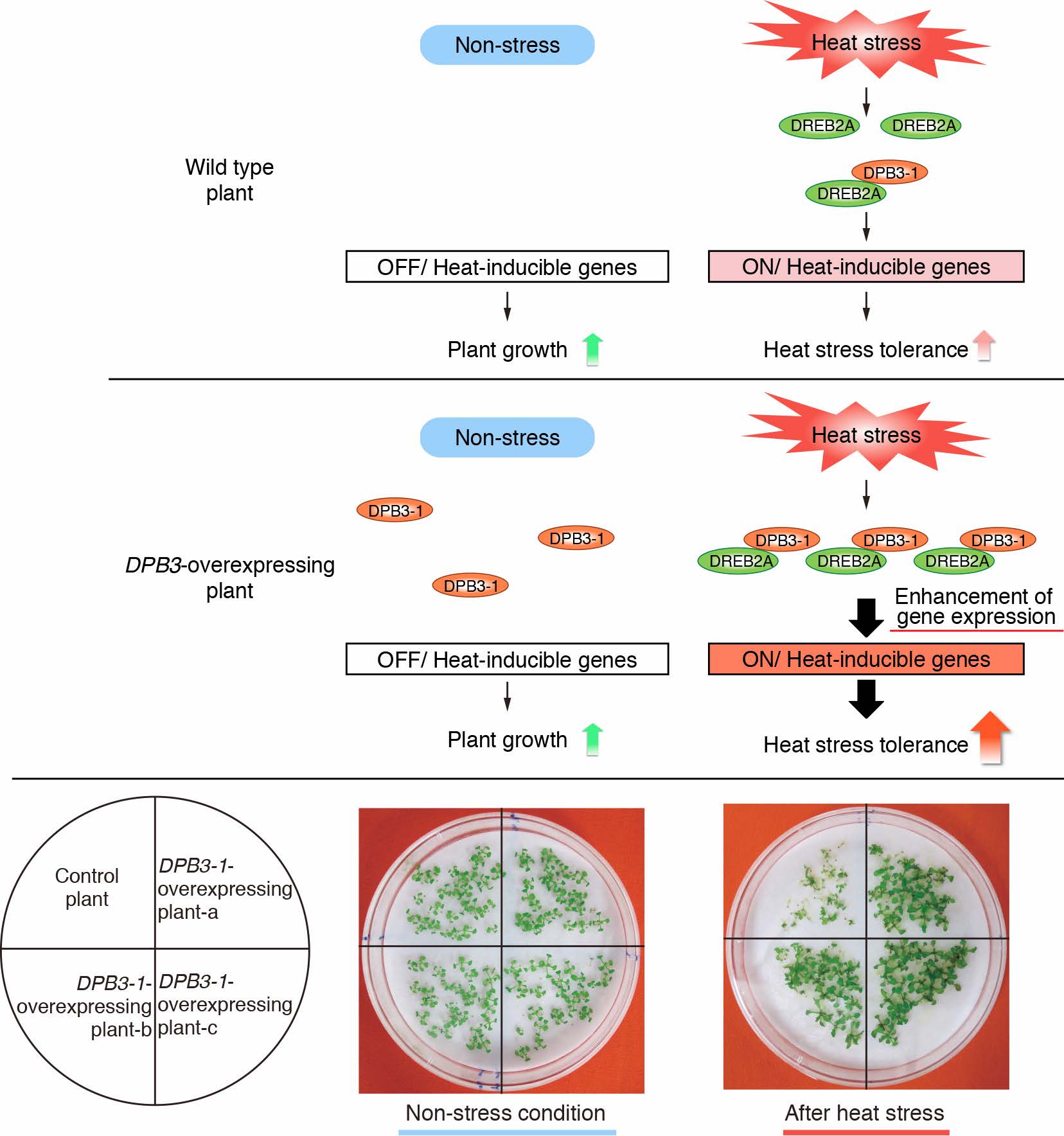 Enlarge this image
Fig. 1 The overexpression of DPB3-1 in Arabidopsis thaliana does not have negative effects on plant growth under non-stress conditions, and increases heat stress tolerance through enhancement of DREB2A activity under heat stress conditions.
© 2015 Hikaru Sato
Researchers at the University of Tokyo, Japan International Center for Agricultural Sciences and RIKEN have demonstrated a novel molecular mechanism that regulates gene expression in response to heat stress in plants.
Plants respond to environmental stresses such as drought, high-salinity and heat, and induce expression of numerous stress tolerance genes in order to adapt to the stress conditions. Arabidopsis DREB2A is an important transcription factor that regulates expression levels (transcriptional regulation) of many heat stress-responsive genes that function in acquisition of stress tolerance under heat stress conditions. However, the detailed mechanism (protein-protein interaction) of how the DREB2A protein activates the target genes remain to be elucidated.
Graduate School of Agricultural and Life Sciences Professor Kazuko Yamaguchi-Shinozaki and co-workers identified DPB3-1 as a novel interacting protein with DREB2A in Arabidopsis thaliana and revealed that the DPB3-1 combined with and supported the transcriptional activity of DREB2A. Overexpression of the DPB3-1 enhanced the expression levels of many heat stress-inducible genes including the DREB2A target genes that were important to increase heat stress tolerance for plants under heat stress conditions. Moreover, the DPB3-1-overexpressing plants showed enhanced heat stress tolerance and did not show any growth retardation under non-stress conditions.
Heat stress is expected to be a major problem affecting crop productivity as a result of global warming. The current research suggests a new mechanism by which plants acquire heat-stress resistance, the application of which can be used for plant breeding to generate crops with enhanced heat stress tolerance.
Paper Information
Hikaru Sato, Junya Mizoi, Hidenori Tanaka, Kyonosin Maruyama, Feng Qin, Yuriko Osakabe, Kyoko Morimoto, Teppei Ohori, Kazuya Kusakabe, Maika Nagata, Kazuo Shinozaki, Kazuko Yamaguchi-Shinozaki,
"Arabidopsis DPB3-1, a novel DREB2A interactor, specifically enhances heat stress-induced gene expression by forming a heat stress-specific transcriptional complex with NF-Y subunits," The Plant Cell
Online Edition: 2014/12/9 (Japan time), doi:10.1105/tpc.114.132928
Online URL (Abstract page, not full text):
http://www.plantcell.org/content/early/2014/12/09/tpc.114.132928.abstract